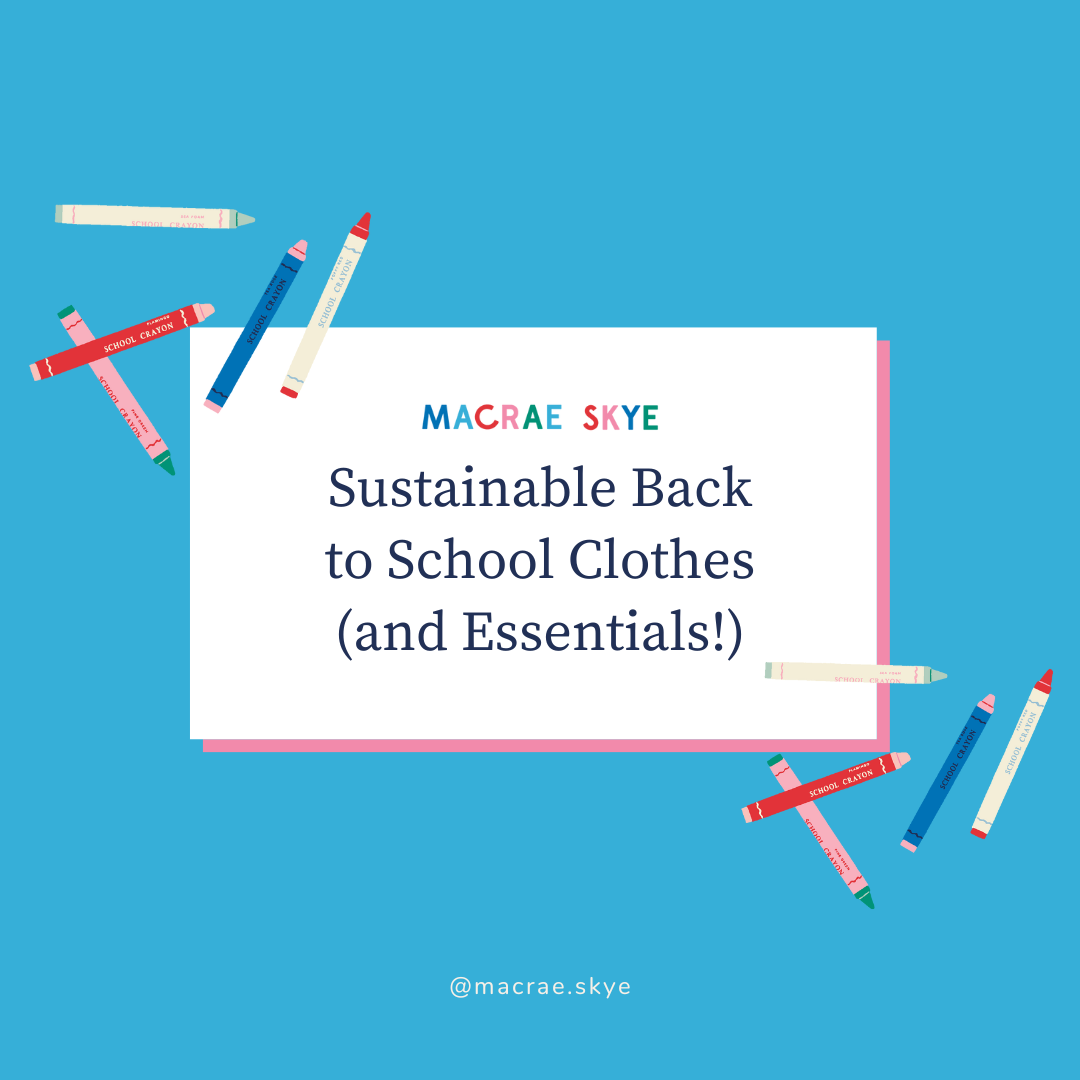 Summer is rapidly coming to an end, and back to school season is here. So, grown-ups ... are you ready? Most likely, you have a list of supplies you'll need - and we bet your kids can't wait to go shopping for some snappy new back to school clothes! But how many kids' clothing brands are eco-friendly? (Answer: Not many!) Let's take a look at some Macrae Skye back to school essentials that are manufactured with Earth in mind.
For Lunchtime
 An Eco-Friendly Water Bottle
Klean Kanteen's classic insulated water bottles are some of the best eco-friendly water bottles out there. Klean Kanteen is a certified B Corp, and all its products are Climate Neutral Certified. They make 12-oz bottles just for kids, or there are a bunch of cap options that fit each bottle, so whether you want to sip, chug, or drink your water through a straw, you can find the right cap for your water bottle. They even sell spill-proof, sippy-cup-style lids!
 Natural Cotton Backpacks
Start a lunchroom trend with Macrae Skye natural cotton backpacks. They're machine washable, have sturdy drawstrings, and come in the sweetest Hamptons-inspired designs screen printed with water-based, eco-friendly ink. Swap out the flimsy paper bag for a reusable, fun, and eco-friendly alternative!
In the Classroom
 Compostable Pencils
At school, a great pencil is a necessity. That being said, many pencils are coated in plastic and end up in a landfill. But, there's a better way! When Sprout pencils get too short, you can plant them and watch them grow. Sprout pencils are made from sustainably harvested wood, 100% natural clay and graphite. Depending on which variety you receive, your pencils will grow into flowers, herbs, or vegetables!
 Biggs Bomber Jacket
You basically have all your kiddo's school supplies in-hand - but you feel like you're forgetting something. We know what it is! With 100% cotton indigo chambray, soft cotton washed denim, and a sherpa lining (in our printed colors), our Biggs Bomber Jacket makes back to school season easy. As part of our quest to transform the the traditionally wasteful fashion industry, our Biggs Bomber Jacket is our go-to for classrooms and playgrounds alike. Explore all of our colors here!
Back and Forth
 Eco-Friendly Portable Charger
Here, there, and everywhere! We all know how important it is to have those devices charged. This portable charger is made from eco-friendly materials like plant-based resin, and works on iPhone, iPad, and Android devices, and more. Keep it in the center console and ensure your family's tech is charged and ready whenever you need it. Nimble also has a One-For-One Tech Recovery Project. With every Nimble purchase, you get a return envelope so you can send a pound of old or broken electronics to their e-waste recycling partner.
 Blacklock Smocked Dress
Now that they're heading back to school, let's make them feel special. This sweet dress is made from 100% cotton poplin and comes in the prettiest prints. It has a classic, yet fashion-forward style that blends seamlessly with any of our mix-and-match pieces - and will secretly make all her friends a little jealous. Perfect for girly girls and explorers alike, this dress also has delicate smocking, for the easiest fit. Plus, we've added an extra set of buttons to the straps, so the dress can be lengthened for another year or two of wear. Find your favorite print here!
We're excited to get back in the classroom this year. And our mix-and-match pieces (all in the same color palette) make the transition even easier!