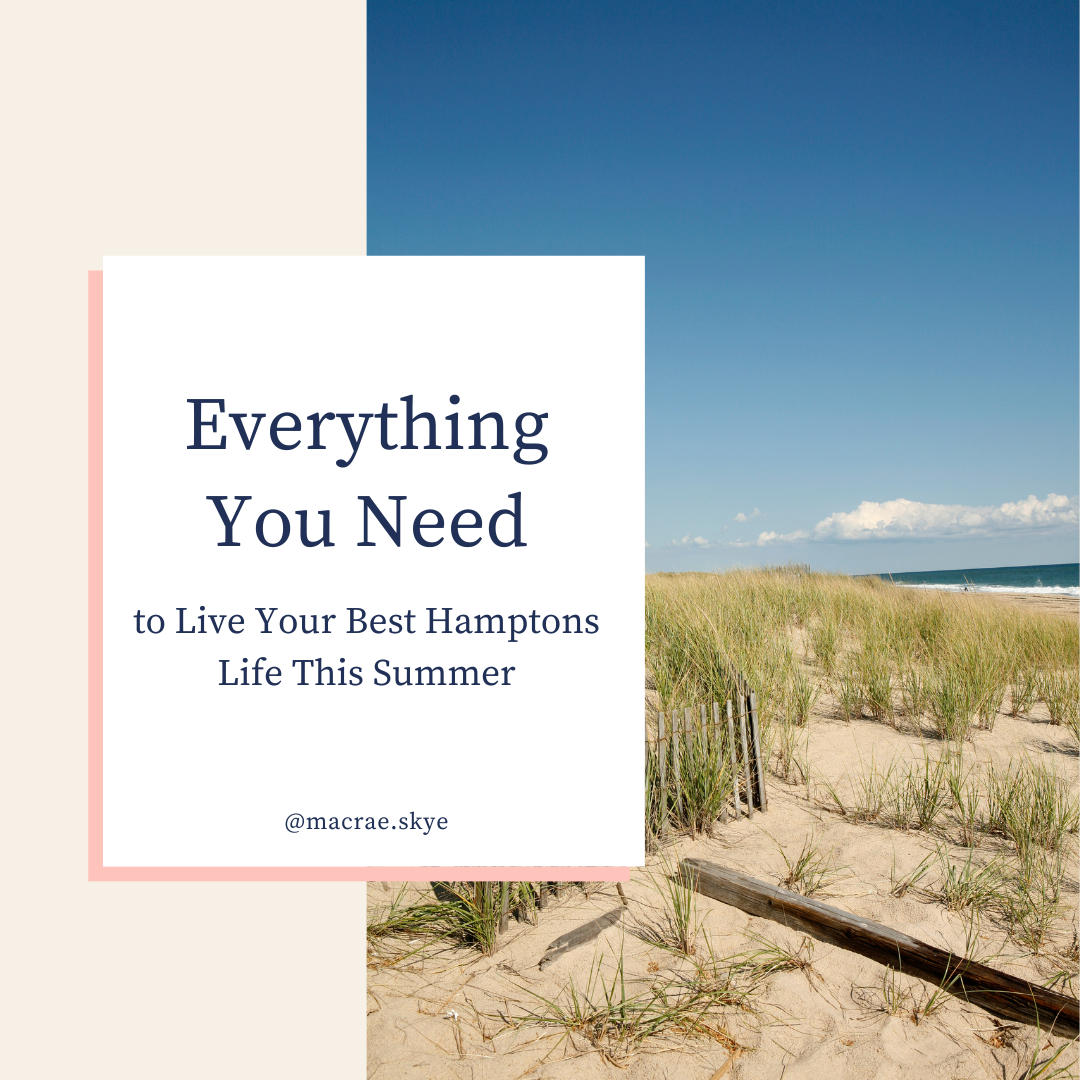 Celebrate summer with our Founder's Faves!
The start of a new season means the debut of so much goodness, and the Macrae Skye team loves getting our hands on new finds and familiar essentials (and of course, passing on this crucial knowledge to you—the Macrae Skye Clan).
In the Hamptons, Memorial Day weekend kicks off the summer season, but for those in the know, the 4th of July is the real start of the summer festivities! This year, summer is also extra-special for Macrae Skye, since we opened up our very first storefront in Amagansett a few weeks ago! As we head into the full swing of the season, we want to share a selection of amazing products to put on your shopping list, handpicked by our Macrae Skye Founder, Kim Slicklein.
From a new line of stationery to organic Turkish towels, to family safe tick and bug repellents (that keep those annoying critters literally outta your hair), these must-haves will keep you active and living a beautiful, coastal grandmother dream, all summer long.
 A No Sand Tote
Made from 100% eco-friendly materials like recycled plastics or cotton denim, these patent-pending mesh bottom bags by mom-owned brand Of One Sea, are pure genius. Simply unzip the bottom cover and let all the sand, crumbs, and miscellaneous questionable gunk that collects in family beach bags empty out. The tote design even has two different sized sets of straps so little ones can carry the bag, too.
 Macrae Skye Stationery
Summertime is all about get togethers, BBQs and pool parties, and a beautifully designed box set of stationery is the perfect hostess gift!
Macrae Skye has just launched two sets of stationery in collaboration with Emily Taylor: the Global Stamp Postcards are hand-drawn vintage stamps from the US, England, Scotland, The Netherlands, South Africa, and India—shimmering with gold foil detail and die-cut edges, and another set showing off our Local Hamptons Collection featuring Amagansett, East Hampton, Montauk, Sag Harbor and Napeague.
The stationery is printed on Forest Stewardship Council (FSC) certified paper and encased in a recycled PET box.
The sets are great as gifts, but they are so pretty that you'll want them for yourself. They are perfect for thank you cards, birthday cards, or even for a special note to a friend. Macrae Skye stationery is available online and at our Amagansett store. Click here to purchase online, or visit us in-person. We'd love to see you!
 Reef-Safe, Eco-Friendly Sunscreen for the Whole Fam
Before you hit the beach, say goodbye to sunscreens with harsh chemicals that pollute the ocean, beach, and your skin! Woman-founded Supergoop!'s PLAY Everyday Lotion is here to save the day. Bonus: it smells soooooo good! This SPF 50 lotion absorbs easily into skin (read: isn't sticky), so kids don't mind it as much. It also comes in a family-friendly pump size, so you won't run out of sunscreen after a single day on the water.
 Eco-Friendly Water Bottles
Klean Kanteen's classic insulated water bottles are some of the best eco-friendly water bottles out there. Klean Kanteen is a certified B Corp, and all its products are Climate Neutral Certified. They make 12-oz bottles just for kids, or there are a bunch of cap options that fit each bottle, so whether you want to sip, chug, or drink your water through a straw, you can find the right cap for your water bottle. They even sell spill-proof, sippy-cup-style lids!
 Turkish Towels
Whether it's a picnic, or a day on the boat, sand-resistant, quick-drying Sand Cloud towels are perfect for any adventure. All the towels are made from organic Turkish cotton, and Sand Cloud lives up to its Shark Tank hype. Their towels are light and compact, and sand shakes right off of them!
 Green Toys Sand Play Set
Green Toys are made in the USA, and have been making safe and eco-friendly toys for kids since 2008. Using 100% recycled materials (mostly post-consumer milk cartons), packaged in recyclable cardboard, and printed with soy-based inks, Green Toys are truly committed to manufacturing eco-friendly products! This play set is perfect for keeping kids busy and engaged on all those beach adventures.
 A Great, Natural Tick and Bug Repellent
Want to avoid DEET and picaridin? This Repel spray is for you. Consumer Reports independently lab-tested a ton of popular insect repellent products and gives it a 5/5 score for its protection against both mosquitoes and deer ticks — seriously impressive for a DEET-free spray! Just remember to reapply every 6 hours or so.
 Plastic-Free Lunchboxes for the Kids
Most lunch boxes designed for kids are made with unsustainable materials, and even materials that aren't the best for food! But this Planet Box is stainless steel. It even comes with two leak-proof containers that have food-grade silicone lids so you can pack up liquids or wet foods.
 Eco Scooters!
Micro Kickboard is already known for their awesome rides and hand-me-down durability. Now, they have a new line of scooters, made from recycled fishing nets! First, the nets, ropes, and other fishing gear is collected. Then, they're transformed into recycled plastic raw material. Finally, the recycled plastic is used for the new Mini Micro ECO! We love the sustainable step this company is taking.
So, with the 4th of July weekend upon us, fire up the grill, deck your homes in red, white, and blue, and stock up on essentials you can use now and all season long!